Departments
Village Court
303 N. Franklin Street,
Watkins Glen, NY 14891
Phone: (607)-535-9717
Fax: (607)-535-7621
Civil matters will be heard Thursdays beginning at 12:30 pm.
Criminal matters will be heard Thursdays beginning at 1:00 pm.
The Court is located upstairs in the Village Municipal Building.
Court fines and fees may be paid with the Court Clerk by card, cash, check, or money order during Court business hours (8:00 am - 4:00 pm) on the second floor of the Municipal Building on Thursdays, with the exception of the dates listed below.
To pay a Court fine or fee outside of Court hours you are able to do so at the Village Municipal Office window via cash, check, or money order. Cards are not accepted. The Court provided paperwork MUST be presented for processing purposes.
COURT UPDATE:
WATKINS GLEN VILLGE COURT
HONORABLE STEVEN M. DECKER
303 N FRANKLIN STREET
WATKINS GLEN, NY 14891
PH-607-535-9717
Email- villagecourt@watkinsglen.us
April 16, 2020
Pursuant to an Administrative Order signed by Judge Eugene D. Faughnan, all pending matters in Town and Village Courts are administrative adjourned. The next date that the Village of Watkins Glen Court will be in session is June 11, 2020. If you have a matter scheduled before that date you do not need to appear and you will be notified of a new court date by mail or by your attorney.
All payments that are due can still be mailed to the court at the above address and they will be processed when court returns to session.
Anyone with new Vehicle and Traffic violations are encouraged to us the Schuyler County District Attorney's reduction form; https://www.schuylercounty.us/DocumentCenter/View/2946/Traffic-Reduction-Request-Form?bidId=
Anyone with any questions are asked to contact their attorney or they can email the court at villagecourt@watkinsglen.us.
Thank you for your patience during these difficult times.
Honorable Steven M. Decker
Village of Watkins Glen Justice
No Court on the Following Dates:
June 4th, 2020
November 5th, 2020
November 26, 2020
December 24, 2020
Relevant People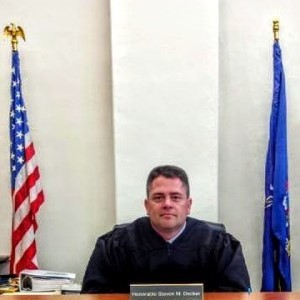 Steven Decker
Village Justice


607-535-9717
email Village Justice

William Kennedy
Acting Justice
Catrina Decker
Court Clerk
---
If you have a disability and are having trouble accessing information on this website or need materials in an alternate format, contact us for assistance.