Departments
Village Court
303 N. Franklin Street,
Watkins Glen, NY 14891
Phone: (607)-535-9717
Fax: (607)-535-7621
Civil matters will be heard Thursdays beginning at 12:30 pm.
Criminal matters will be heard Thursdays beginning at 1:00 pm.
The Court is located upstairs in the Village Municipal Building.
Court fines and fees may be paid with the Court Clerk by card, cash, check, or money order during Court business hours (8:00 am - 4:00 pm) on the second floor of the Municipal Building on Thursdays, with the exception of the dates listed below.
To pay a Court fine or fee outside of Court hours you are able to do so at the Village Municipal Office window via cash, check, or money order. Cards are not accepted. The Court provided paperwork MUST be presented for processing purposes.
COURT UPDATE:
WATKINS GLEN VILLGE COURT
HONORABLE STEVEN M. DECKER
303 N FRANKLIN STREET
WATKINS GLEN, NY 14891
PH-607-535-9717
Email- villagecourt@watkinsglen.us
June 18, 2020
Update on Village of Watkins Glen Court proceedings.
The Village of Watkins Glen Court is now open on Thursdays at 8am for the purpose of fine collection and filing of Small claim and Civil Matters. NO EVICTION filings or hearings can be heard until August 20, 2020 per an executive order signed by the Governor. All Criminal and Misdemeanor Vehicle and Traffic matters are now calendared beginning June 25, 2020 and correspondence has been sent to defendants and their attorneys. All court appearance times have been staggered to allow for social distancing in the courtroom. Please DO NOT appear until your scheduled time.
In order to limit the number of persons present in court, all persons charged with simple traffic violations have been sent correspondence on how to proceed with their ticket and are asked to attempt to resolve their ticket via US Mail.
Anyone wishing to file a new small claims or civil matter may do so on Thursdays. Paperwork and instructions on those filings can be found on the NYS Courts website under the DIY section. Again, NO EVICTION petitions can be filed at this time.
The Village of Watkins Glen Court will have a capacity limit during this phase of reopening to 10 persons at one time and all persons appearing in Court must have a face covering on or they will not be allowed to enter the Municipal Building. All persons appearing in court will have their temperature screened prior to entering the courtroom and will have to provide contact information to the court officer.
Anyone with questions is asked to call or email the court. Thank you for your patience and stay healthy.
Honorable Steven M. Decker
Village of Watkins Glen Justice
No Court on the Following Dates:
July 23rd, 2020
November 5th, 2020
November 26, 2020
December 24, 2020
Relevant People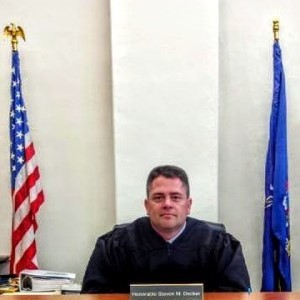 Steven Decker
Village Justice


607-535-9717
email Village Justice

William Kennedy
Acting Justice
Catrina Decker
Court Clerk
---
If you have a disability and are having trouble accessing information on this website or need materials in an alternate format, contact us for assistance.